Sanitary Tubing is the main tubing line for a piping system. Generally, sanitary tubings are made in stainless steel 304 and 316l, but we provide other grade too such as hastelloy C22, 316Ti, Titanium and nickel alloy etc. We offer both sanitary seamless tubes and sanitary welded tubes to ASTM A270, ASTM A269, ASTM A249, ASTM A554, ISO2037, DIN11850, BS4825 and size is up to 12″. Inner and outer surface is polished to meet the high purity requirement of hygienic industries. Kaysen sanitary is ability to supplying qualified sanitary tubings comply to your your condition and FDA,GMP requirement.
Such as SMS/DS Sanitary Fittings, DIN Sanitary Fittings, 3A Sanitary Fittings, ASME BPE Sanitary Fittings, Sanitary Bevel Seat Fittings. If you like, pls contact me for details.
Sanitary Tubings – Polished Stainless Steel Tube – Stainless Steel Hygienic Tubes
Size: Outside Diameters: 1/2″ ~ 12″, Wall Thickness: 0.020″ ~ 0.250″
Material: 304 (1.4301); 304L (1.4307); 316 (1.4401) ; 316L (1.4404)
Raw Material: From BAOSTEEL, TISCO, POSCO, KRUPP STAINLESS-
annealed or not annealed
Standards:

ASTM A270, ASTM A249, ASTM A269, ASTM A213, ASTM A554, ISO2037, BS4825, EN/DIN11850 etc.

Surface: Descaled finish, Mirror polished on requested
Heat Treatment of solution annealing for the sanitary tubings and fittings are available. The heat treated will be relief stress which caused by cold forming of fabrication, to improve the corrosion performance.
High precision on dimension and wall thickness. Bright annealing is available.
Both seamless and welded sanitary tubings are available to meet your different usage.
Multiple grade upon your requirement.
Length is up to 12 meters.
Min. order quantity of sanitary tubings is from 300Kgs.
Application:Food, Brewery, Beverage, Dairy, Pharmaceutical, Biopharma etc.
Fast delivery for general specification to meet your needs well in time.
Quality & Inspection:
PMI test to verify material grade.
Dimension controlling.
Visual and surface 100% examination before shipment.
End protected for shipment.
Packed in wooden case (Free-fumigated)

Sanitary Tubings – Polished Stainless Steel Tube – Stainless Steel Hygienic Tubes
Standard
ASTM A270, ASTM A249, ASTM A269, ASTM A213, EN/DIN etc.
Material

T304, T316L, EN 1.4301, EN 1.4404 etc.

Size
Outside Diameters: 1/2″ ~ 12″,

Wall Thickness: 0.020″ ~ 0.250″

Surface

Descaled finish, Mirror polished on requested

Application

Food, Brewery, Beverage, Dairy, Pharmaceutical, Fine chemical, Cosmetic etc.

How to order

*Part Name

*Dimension*Material*Quantity*Polish requests for OD/ID
Dimension Table of Sanitary Tubing – Polished Stainless Steel Tube – Stainless Steel Hygienic Tubes
ISO/IDF
SMS-DS
3A
ISO 2037(JIS G3447)
Size
D
t
Size
D
1
2
Size
D
t
Size
t
1/2″
12.7
1.5/1.0
25
25
1.25
1.5
1/2″
12.7
1.65
12
1.0
3/4″
19.1
1.5/1.0
32
32
1.25
1.5
3/4″
19
1.65
12.7
1.0
1″
25.4
1.5/1.2
38
38
1.25
1.5
1″
25.4
1.65
17.2
1.0
1.25″
31.8
1.5/1.2
51
51
1.25
1.5
1 1/2″
38.1
1.65
21.3
1.0
1.5″
38.1
1.5/1.2
63.5
63.5
1.5
2.0
2″
50.8
1.65
25
1.2/1.6
Ø45
45.0
2.0
76
76
1.6
2.0
2 1/2″
63.5
1.65
33.7
1.2/1.6
Ø48
48.0
1.5
89
89
2.0
2.0
3″
76.2
1.65
38
1.2/1.6
2″
50.8
1.5
101.6
101.6
2.0
2.0
4″
101.6
2.1
40
1.2/1.6
Ø57
57.0
2.0
6″
152.4
2.8
51
1.2/1.6
2.5″
63.5
2.0
8″
203.2
2.8
63.5
1.6
3″
76.2
2.0
10″
254
3.4
70
1.6
3.5″
89.0
2.0
12″
305
3.4
76.1
1.6
4″
101.6
2.0
88.9
2.0
Ø108
108.0
2.0
101.6
2.0
4.5″
114.3
3.0
114.3
2.0
Ø133
133.0
3.0
139.7
2.0
Ø159
159.0
3.0
138.3
2.6
Ø204
204.0
3.0
219.1
2.6
Sanitary Stainless Steel Polished Tubes Chemical Composition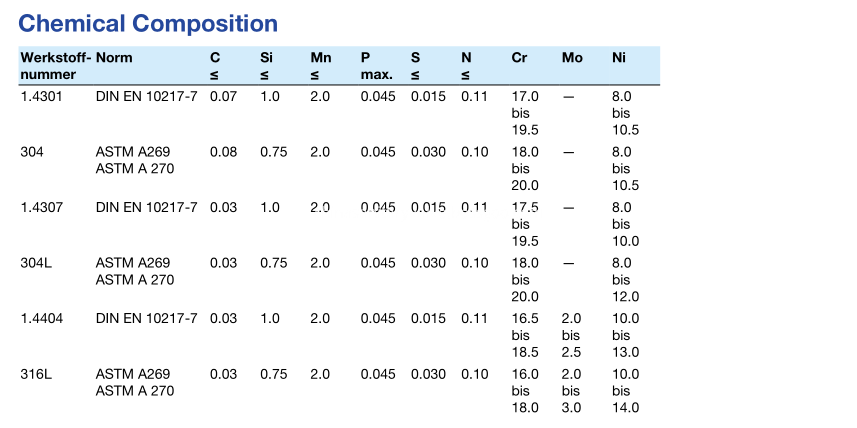 Sanitary Stainless Steel Polished Tubes Polished Details:
Item
Round Pipes
Square & Rectangular Pipes
Surface Finish
Mill Finish
Mill Finish

180#
180#
400#
400#
600#
180# Hairline
180# Hairline
240# Hairline
240# Hairline