Spiral submerged arc welding(SSAW) is its forward direction and forming tube centerline hose reel molding angle (adjustable), side molding edge welding, and welding them into a spiral.
The SSAW pipe is widely used in long distance pipeline project for transmission of oil, natural gas, water as well as coal gas, and also is used in all kinds of engineering, such as chemical industry, electric power, irrigation, construction and piling etc.
Advantages of ssaw Steel Pipe
(1) The use of steel strips of the same width enables the production of steel pipes of different diameters, in particular the production of large-diameter steel pipes with narrow strip steel.
(2) Under the same pressure conditions, the spiral welds are subjected to a smaller stress than the straight seams, which is 75% to 90% of the straight seam welded pipes, and can therefore withstand greater pressures. Compared with the straight Welded Pipe with the same outer diameter, under the same pressure, the wall thickness can be reduced by 10% to 25%.
(3) Accurate size, general diameter tolerance is not more than 0.12%, deflection is less than 1/2000, ellipticity is less than 1%, and sizing and straightening processes are generally omitted.

| | |
| --- | --- |
| Product Name | Spiral Submerged Arc Welding Pipe |
| Executive Standard | API 5L PSL1/API 5L PSL2/ASTM A53/A252/A500 /BS EN10219-1/BS EN10219-2 |
| Dimension (MM) | OD:219--3200 x WT:3--30 |
| Steel Code / Steel Grade | A/B/X42/X46/X52/X56/X60/X65/X70 Or P195TR1/P195TR2/P235TR1/P235TR2/P265TR1/P195GH--P265GH |
| Surface Treatment | 1. Galvanized 2. PVC,Black and Color Painting 3. Transparent Oil,Anti-rust Oil 4. According to Clients Requirement |
| Delivery Time | Usually within 7-10 days after receipt of advance payment |
| Product Application | The SSAW pipe is widely used in long distance pipeline project for transmission of oil, natural gas, water as well as coal gas, and also is used in all kinds of engineering, such as chemical industry, electric power, irrigation, construction and piling etc. |
| Payment Terms | T/T 30% Down Payment,Balance Will be Paid Before Shippment |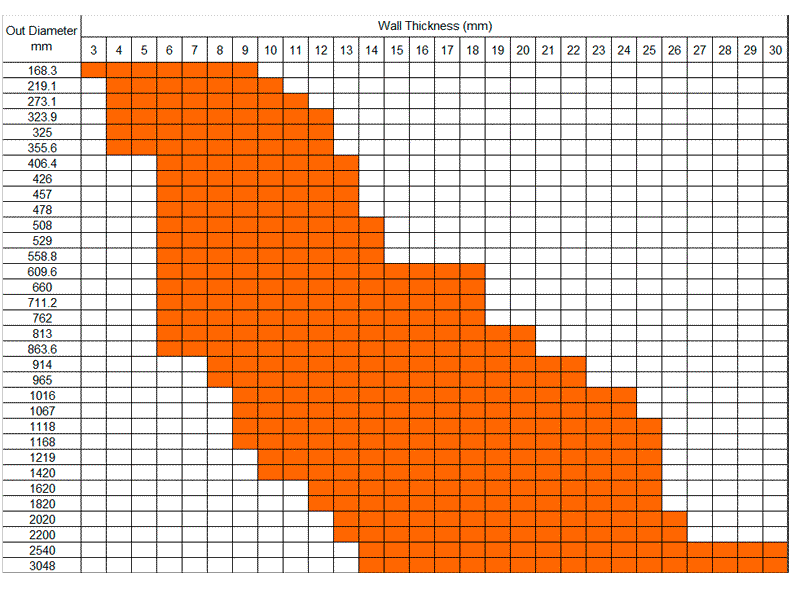 Chemical Analysis and Mechanical Properties of SSAW Steel Pipe
Standard
Grade
Chemical Composition(max)%
Mechanical Properties(min)
C
Si
Mn
P
S
Tensile Strength(Mpa)
Yield Strength(Mpa)
API 5L PSL1
A
0.22
-
0.9
0.03
0.03
335
335
B
0.26
-
1.2
0.03
0.03
415
415
X42
0.26
-
1.3
0.03
0.03
415
415
X46
0.26
-
1.4
0.03
0.03
435
435
X52
0.26
-
1.4
0.03
0.03
460
460
X56
0.26
-
1.4
0.03
0.03
490
490
X60
0.26
-
1.4
0.03
0.03
520
520
X65
0.26
-
1.45
0.03
0.03
535
535
X70
0.26
-
1.65
0.03
0.03
570
570
API 5L PSL2
B
0.22
0.45
1.2
0.025
0.015
415
415
X42
0.22
0.45
1.3
0.025
0.015
415
415
X46
0.22
0.45
1.4
0.025
0.015
435
435
X52
0.22
0.45
1.4
0.025
0.015
460
460
X56
0.22
0.45
1.4
0.025
0.015
490
490
X60
0.12
0.45
1.6
0.025
0.015
520
520
X65
0.12
0.45
1.6
0.025
0.015
535
535
X70
0.12
0.45
1.7
0.025
0.015
570
570
X80
0.12
0.45
1.85
0.025
0.015
625
625
ASTM A53
A
0.25
0.1
0.95
0.05
0.045
330
330
B
0.3
0.1
1.2
0.05
0.045
415
415
ASTM A252
1
-
-
-
0.05
-
345
345
2
-
-
-
0.05
-
414
414
3
-
-
-
0.05
-
455
455
EN10217-1
P195TR1
0.13
0.35
0.7
0.025
0.02
320
320
P195TR2
0.13
0.35
0.7
0.025
0.02
320
320
P235TR1
0.16
0.35
1.2
0.025
0.02
360
360
P235TR2
0.16
0.35
1.2
0.025
0.02
360
360
P265TR1
0.2
0.4
1.4
0.025
0.02
410
410
P265TR2
0.2
0.4
1.4
0.025
0.02
410
410
EN10217-2
P195GH
0.13
0.35
0.7
0.025
0.02
320
320
P235GH
0.16
0.35
1.2
0.025
0.02
360
360
P265GH
0.2
0.4
1.4
0.025
0.02
410
410
EN10217-5
P235GH
0.16
0.35
1.2
0.025
0.02
360
360
P265GH
0.2
0.4
1.4
0.025
0.02
410
410
EN10219-1
S235JRH
0.17
-
1.4
0.04
0.04
360
360
S275JOH
0.2
-
1.5
0.035
0.035
410
410
S275J2H
0.2
-
1.5
0.03
0.03
410
410
S355JOH
0.22
0.55
1.6
0.035
0.035
470
470
S355J2H
0.22
0.55
1.6
0.03
0.03
470
470
S355K2H
0.22
0.55
1.6
0.03
0.03
470
470